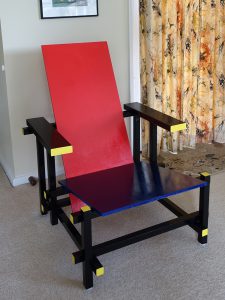 At age 74, it is rare to get a really surprising birthday present! However, my brother Simon managed that the other day when he brought over a beautiful copy of the famous Rietveld chair (and table) which he had built especially for my birthday.
What a precious gift! It triggered off a series of emotions and memories from the past 60 years. Here are a few of my encounters with a Rietveld chair.
1960's Den Haag
I (Marius) was born in Rotterdam, The Netherlands, but spent my formative years (7-19) in The Hague. Dad (Jo) worked for the Hydrographic Office of the Dutch Navy, where he was a draftsman (1947-1966), working on Marine Charts. However, his training and ambition was as an artist/illustrator, rather than as a draftsman. 
I was, at least in part, wondering about my own lack of artistic ability. My own educational path was painful and patchy, but while at High School (MULO) in The Hague, the city offered passes to local museums. Consequently, I spent many hours wandering around  a couple of terrific museums, the Mauritshuis and the Gemeentemuseum (recently renamed Kunstmuseum).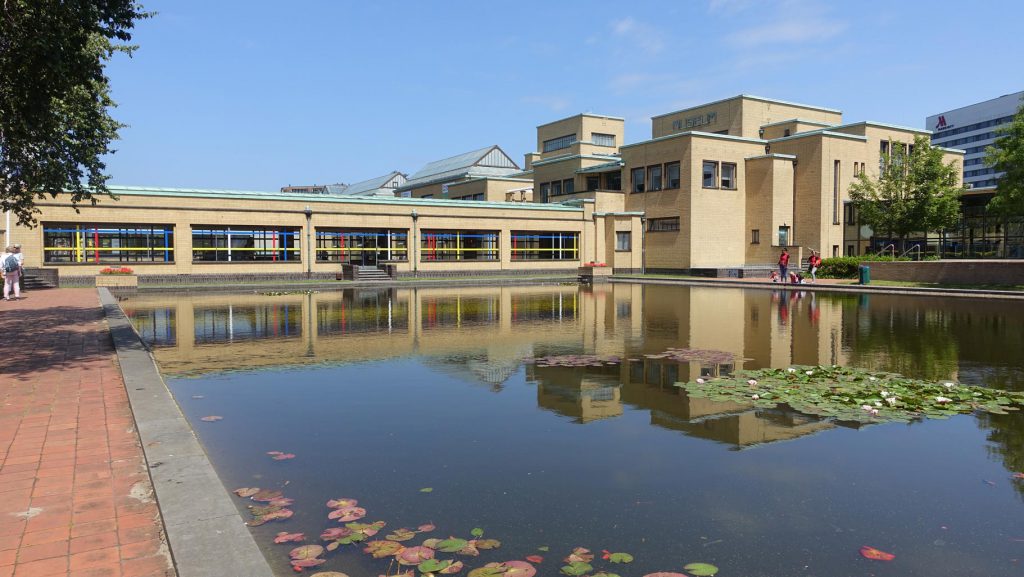 The Gemeentemuseum is a wonderful 1930's building designed by Berlage and has the world's best collection of paintings by Mondrian and … there I first saw a chair by Gerrit Rietveld. All three were part of an art movement called "De Stijl" in the early part of the 20th century.
It dawned on me that you didn't have to be an artist to appreciate art and that art extended beyond realistic representations on canvas.
Later in the sixties, Dad decided that moving to Australia might be a solution to his ambitions, while I found a "home" away from the arts, in technology.
1976 Dit & Sjaak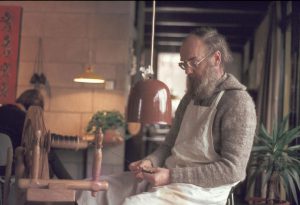 In 1976, my Australian employer, a medical electronics company, sent me to Europe for training. On free weekends, I took the opportunity to visit relatives, among the favourites, Sjaak and Dit Velthoven in Zuidhorn. A visit to them was always stimulating, whether it was Sjaak spinning wool or Dit designing dresses. And of course, I admired the Rietveld chair in their living room, a copy built by their eldest son, Willem. Proving it was not just an abstract art object, but one available and accessible as an everyday item. Also at that time, I met Thomas, their youngest (12 year old) son who we went shopping for "raw milk" from a local farmer with).
2017 Thomas
In 2017, Joy and I went to Europe on a 2 month holiday to celebrate my 70th birthday, which included a visit to the Nordic countries and a cruise down the Norwegian Coast.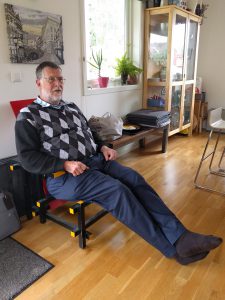 Well ahead of our trip, I had contacted Thomas Velthoven, who had moved to Norway with his family. It promised to be a unique opportunity to once again catch up again with a member of the Velthoven family.
Unfortunately, a short time before our trip, we learnt that Thomas had been diagnosed with a brain tumour. Nevertheless, his wife, Annemiek encouraged us to still visit them when we were in Oslo. By that time, Thomas' illness had taken hold of him, but we valued the opportunity to meet up and get to know his family.
Much to my surprise, the "Velthoven" Rietveld chair was in their lounge room, some 40 years since I last saw it at Sjaak and Dit's place.
2021 Birthday present
When Simon told me he had a present in the back of his car. I was stunned to find a Rietveld chair… One carefully scaled to suit my large derriere, but a real Rietveld chair. And a side table to boot!
I had previously admired the Rietveld chair which Simon had made for himself.  He had been similarly impressed by the work of Gerrit Rietveld and built one for himself after admiring the collection at the Centraalmuseum  in Utrecht during a visit which he and Anne made to the Netherlands for his own 70th birthday in 2019.
Here are some images of that trip (click or tap to enlarge ):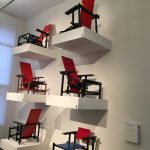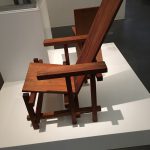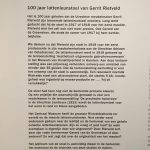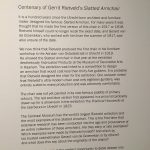 Thank you, Simon.
References:
Picstory – Family history
Mauritshuis – The Hague
Gemeentemuseum (Kunstmuseum) – The Hague
De Stijl – en, nl
Centraal Museum, Utrecht